Bad breath is NOT normal… it's a sign of dental disease! Winslow Animal Hospital can help control your pet's bad breath and dental disease.
Did you know dental disease is the most common infectious disease in dogs and cats? In fact over 68% of all pets over the age of three, and 80% over the age of four, have some form of periodontal or dental disease. Most pets show few signs of dental disease. The most obvious is bad breath. The most common cause of dental disease in dogs and cats is due to tartar and calculus accumulation. Tartar is easily identified by its tan or brown color. It normally starts at the gum edge, especially on the back teeth called the premolars and molars. This accumulation of tartar and bacteria on the teeth surfaces lead to infection and gingivitis or inflammation of the gums. Left untreated, this will progress to irreversible periodontal disease, which results in pain and eventual tooth loss. Infection around the tooth causes bacteria to spread through the body via the bloodstream and may damage the kidneys, liver and heart, thereby shortening your pet's life. Once tartar has formed it will be necessary to remove it by professional scaling and polishing under anesthesia.
Winslow Animal Hospital offers your pets state-of-the art dental services, with their dental suite equipped with ultrasonic scaler, polisher, dental x-ray machine, and high/low speed drills to perform complicated tooth extractions, and even root canals.
Dental Procedure:
Tooth scaling will be performed using both hand scalers and ultrasonic cleaning equipment to remove tartar both above and below the gum line. The tartar beneath the gum line causes the most significant gum disease. The teeth are then polished in order to help prevent subsequent plaque build-up. It may be necessary to carry out other procedures such as dental x-rays and extractions at the same time. The procedure is completed with an application of fluoride to strengthen your pet's enamel. Keeping your pet's teeth and gums clean and healthy has been proven to extend your pet's life by 3-5 years!
The doctors and staff of Winslow Animal Hospital act as "pet advocates" by caring for your pets as if they were their own. They will strive to extend and enhance the quality and duration of your pets' lives by focusing on preventative health care along with offering the highest quality and cutting-edge medical, surgical, and dental services in a friendly and compassionate environment. All surgical cases have their blood tested for liver and kidney function, electrolytes, blood sugar and cell blood count to look for any infection prior to surgery. While under anesthesia, the state-of-the-art anesthesia monitor continually checks your pet's EKG, blood pressure, carbon dioxide levels, oxygen saturation, body temperature, respiratory rate and heart rate. These blood tests and this level of patient monitoring greatly reduce any risks from anesthesia.
Pain Management:
Pain Management is of utmost importance at Winslow Animal Hospital. All of the pets will be treated for pain before surgery, as well as going home with a 4-day supply of pain medication, so they may recover with minimal discomfort.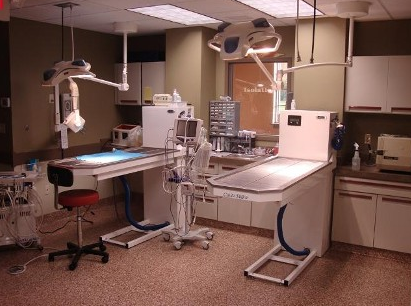 Winslow Animal Hospital has been voted "One of the Best Veterinarians" in South Jersey Courier Post for 12 consecutive years. Dr. Coudrai , Dr. Amy Hinze and Dr. Chachkes are graduates of University of Pennsylvania Veterinary Medicine and have attended extensive post-graduate continuing education in dentistry offered by Animal Dental Training Center in Maryland.
Oral care and professional dental cleaning is very important part of your pet's health and well being. At Winslow Animal Hospital we care about your pets and are dedicated to extending and enhancing your pet's live by focusing on preventative care such as the professional dental cleaning. Call us to learn more about dental health and to schedule an appointment.
To find out additional information about dental care please visit: www.cetdental.com or www.petdental.com.
Anesthesia-Free Pet Dentistry?