This adorable dog is Dubai! He is a handsome Anatolian Shepherd. He and his family came to Winslow Animal Hospital for treatment after Dubai started showing signs that he was not feeling well.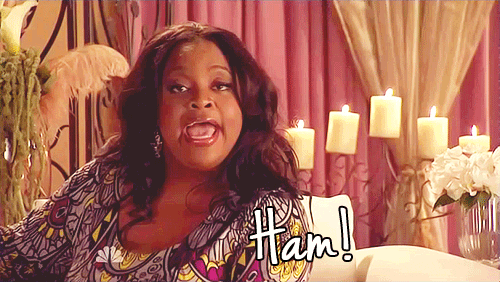 Many of us enjoy it. The delicious, tender, savory flavor of ham. And a tiny taste is ok for your dog, too. Just be sure it's a small piece of cooked meat, and not a bone. Unfortunately, Dubai had some terrible trouble with a ham bone he had swallowed. We do not recommend giving bones to pets. The bones can sometimes break, splinter and then injure the inside of the digestive tract of your pet. Large pieces of bone (or any foreign objects) can also cause a life-threatening obstruction in the digestive tract. It's very important that the digestive tract be free to do its job from beginning to end. When Dubai started showing symptoms consistent with a gastrointestinal obstruction, it was time to do some tests!
We did, in fact, analyze that ham. Well, not THAT ham from the above gif, but the ham bone that Dubai had swallowed. We took x-rays to observe the inside of Dubai's body for diagnostically significant information.
The ham bone was, in fact, the culprit. It was causing a painful obstruction in Dubai's digestive tract that could threaten his life! Dr. Philippe Coudrai performed the laparotomy procedure to fix the problem. Dubai came back to Winslow Animal Hospital so Dr. Kate McDermott could perform his medical progress exam to make sure he was doing well since the procedure.
If your favorite furry friend still craves that savory ham flavor, there is a safer alternative to bones: